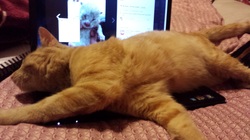 In 2010, Luisa Ortiz and Sandra Solis,animal advocates joined forces to counteract the growing problem of strays in Laredo. We have rescued homeless pets, providing veterinary care, grooming, and spay/neuter services in the hopes of finding these animals a loving home. As we became more involved in helping animals, we realized that there was a lack of resources in the animal care community, which in of itself is experiencing unprecedented challenges. We continue to see increasingly high numbers of stray and abandoned animals requiring costly veterinary intervention and continuing care.

In 2014, Krisa Leon joins the group and we decided to create a 501 (c) (3) non-profit corporation Best Friends for Life, Inc effective January 20, 2015 in order to continue our work with homeless animals. Laredo is growing rapidly with an increased number of strays.

Our goals include creating community awareness and education regarding our cat problem, while providing veterinary care, spay/neuter, microchipping, fostering, finding forever loving homes, and building a much needed cat conducive facility. We are sure in achieving our goals. We intend to include dogs as well in our efforts. Our ultimate goal would be for the City of Laredo to be a completely NO-KILL City and be a role model to other cities.

In 2015 months alone our group has made it possible for 166 cats to be tested negative of diseases, been vaccinated, spayed/neutered, microchipped, and adopted into loving homes. This has been in part due to the diligence of our members and the overwhelming positive response we have received from the community. For every cat successfully assisted and adopted, the heartwarming joy we feel cannot be adequately expressed. Although, it is short-lived due to the devastating numbers of cats still waiting to be helped, our organization needs continued funding to be able to provide the needed services. We look forward working hand and hand with other animal organizations because we all share the same mission saving animal lives and finding loving homes for our homeless pets.

---
BEST FRIENDS FOR LIFE, INC
P.O. BOX 450403
LAREDO, TX 78045
(956) 286-2375